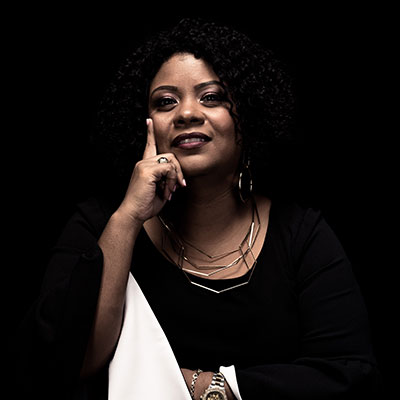 Before reading the book, I use to feel confused and always uncertain about where I fit in – which community did I belong to? Was it the Black community or the Indian community? Was I Christian or a Muslim? I was scared to choose any community and even worse feared being rejected by one or both.
Here is my story: I am the child of parents who are culturally, racially, and religiously different. My mother is an Afro-Canadian Christian and my father is an Indo-Guyanese Muslim. Through my culturally mixed background and upbringing, my entire life has been about embracing and
learning about differences with love and a deep sense of appreciation. Yet, outside of my home, my experiences were different. Often my friends would tease me about the quality of my hair and often compared it to a cleaning pad for pots. When the focus was not on my hair from my Black friends, my Indian friends would often ask why I was so dark. I could not win in any social settings. My Black relatives were more accepting than some members of my dad's family – the Indian side. There were time when I was with my dad's family, I was referred to as my mother's child with my "Black" attitude. As a child and into teenage hood, I walked a delicate and fragile line of cultural identity. Thankfully, I loved to read and read all I could about African and Indian history and culture.
I was and still am an avid reader. I burned through tons of books from Maya Angelou to Richard Wright. I was piecing together and strengthening my identity through notable African Americans authors. I was beginning to emerge as a young afrocentrist Black Canadian and the autobiography of Malcolm X, tipped the edge for me. Here was a man, who also walked a delicate balance being a Black man in American during a time of full racial and violent discrimination. As an impressionable reader, I saw the book laying a road map for me on how to walk this fine line. Malcolm Shabazz showed me the complexities of the life of a black man and more importantly how he transformed his life from a street hustler to one of the most respected
African Americans leaders of our time.
During my struggle to consolidate and strengthen who I was, I made the decision to join the local chapter of the Nation of Islam (NOI) in Montreal and to wear a hijab. I was 15 years old at that time. I was seeking an acceptance and a stability outside of my parents. And in the Nation, I had this stability. Like Malcolm, who converted in prison and left prison a transformed man, I felt there were people who approved of me. Malcolm came out of prison a new man. He no longer did drugs, left behind a life of crime – he too was accepted by his Nation of Islam family.
I did not go to prison or do drugs but I identified with the strong feeling of trust and affirmation. However, when I came upon the part of the book, where Malcolm began to question the Nation of Islam, its teachings and the meaning of Islam, it awoken a curiosity in me. I was raised with a Muslim father, one who taught me about the peacefulness of Islam and the beautiful words of the Qu'ran. It was clear that I was on a journey and subscribing to any religion where there is exclusion could never be for me. As a teenager, I knew I could no longer be a member of the NOI. So yet again, I was presented with the revolving conflict – acceptance or reality. I choose reality.
I left the Nation of Islam at the age of 19. I made a decision to construct the personhood that my parents taught me from the beginning – to be open, loving and curious. Today, I am paying homage to my parents. I am a seasoned high school teacher, and a university lecturer thriving in the field of interfaith studies. I love helping my students see the beauty of juxtaposition. Witnessing and honouring the complexity of life whether it is in religion, race, consciousness, class or gender and how they all interact and shape our reality. I realize that I am more than my culture and heritage and proud to say that I am Afro-Indian interfaither – I subscribe to God. I know that there are people who will to try to reduce me to my race or religion but Malcolm's hajj (pilgrimage) help me realize that only I define myself not small minded people. These are people who have yet to see beyond the categorical boxes that are constructed by society for us. And for those people who cannot move beyond the societal restrictions of race, and religion – I love you and compassion. Malcolm's journey taught me that to love is to love freely.
The book did not necessarily change my life – it made presented a new conscious reality as young woman. We all must head down the road destined for us no matter the obstacles. For me, the book bears witness to the reality and brutality of racism but also more. It is a book that holds the mirror to our faces and failings and demands answers. It questions are we and will we take our failings and challenges into something greater than ourselves? It reminded me to look beyond myself and the problems I created in my head – the dire need to be accepted and see that I was always accepted – I just needed to do it – accept myself. This epic story of self-redemption and growth taught and showed me that I was never alone and always had myself – the only approval necessary.
– Dr. Sabrina N. Jafralie –
BIO
Dr. S. N. Jafralie
Dr. Jafralie is a recognized specialist on the Quebec Ethics and Religious Culture course and has over 17 years of teaching experience at the secondary and university levels with experience in the Canadian and British educational systems. This teaching experience and her research on teachers' challenges in teaching religious literacy bring a wealth of knowledge into her roles at the Centre. She is also the co-founder and the regional director in Quebec for the Centre for Civic Religious Literacy (CCRL). In 2018, she was awarded the Prime Minister's Teaching Award of Excellence.